SOFTWARE FOR THE DESIGN OF ELECTRONIC CIRCUITS
KICAD
KiCad is open source software for automated electronic design (EDA) that features an integrated environment for schematic capture and PCB (Printed Circuit Board) layout.
It can run on Windows, Linux and macOS and is licensed under the GNU GPL v3.
KiCad was created in 1992 by Jean-Pierre Charras. Since then it has been in continuous development and is currently managed by the KiCad development team.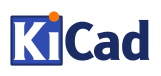 DONWLOAD THE SOFTWARE
This software is available for download on multiple operating systems.
.
USER´S MANUAL
From the KiCad website they offer help documents for the use of the software.
.
OFFICE SOFTWARE
APACHE OPENOFFICE
Apache OpenOffice is a free software for the creation of texts, spreadsheets, presentations, graphics and databases available in several languages.
It is available for various operating systems like Windows, MacOS, and Linux among others.

DOWNLOAD THE SOFTWARE
From its website you can access the download of the software in different operating systems, languages and versions.
.
SIMULATOR